Operating Room process audit

The purpose of this hospital process audit is to identify and analyze what hospital internal supply chain processes take most of the time. Once we know these processes, we can then begin to optimize them for efficiency. Please contact us and get dicovery process going.

Map out every step of hospital supply chain

Flowcharts are a great way to optimize the supply chain and make sure that products reach their destination on time. By mapping out each step in the supply chain, you can track which steps are taking longer than they should and take action to alleviate the bottleneck.
Hospital internal supply chain process discovery

---
Hospital's internal supply chain is a time consuming and costly process. By understanding the steps in the process, you can identify where time is being wasted and create better opportunities to streamline and optimize the flow of supplies throughout the hospital.
What are the benefits for the hospital?
Understand every step of your hospital's internal supply chain
Identify bottle necks and departmental bottlenecks
Have time consumption process flow diagram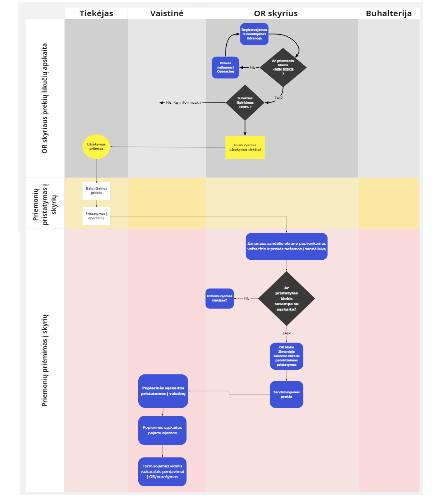 Get optimized hospital replensihment process

---
Implement innovative and optimized hospital replenishment process with direct delivery of medical supplies to designated point of use locations. New delivery process minimize the need for healthcare professionals to interact with suppliers or distribution centers and free your staff focus more on patients.
As a result, patients are provided with faster and more reliable access to the necessary treatment, eliminating unnecessary wait times and reducing the potential for cross-contamination. Small incremental process improvements increase total hospital patient throughput and increase the revenue
Typical hospital process optimization steps
Contact us

Get in touch with us and schedule a meeting where we together put a discovery plan with all stakeholders

Discovery

We conduct 2-4 week long in depth staff interviews and data discovery

Present results

At this stage we come back with audit results, identify strengths, weaknesses, bottlenecks and present an optimized process
Implementation
We will make recommendation how you can implement optimized process. If you wish we will also help you make them implement by providing solutions and management support

Start to learn about your hospital

Join a pool of hospitals who already benefited from optimzed supply chain processes


To install this Web App in your iPhone/iPad press
and then Add to Home Screen.